How do I apply? What is the deadline?
The deadline for application (including application to EMJMD scholarships) is explained here. All applications must be submitted through the online application tool; no document will be accepted by email or post.
I never studied Nanomedicine as such (Biology, Chemistry etc.). Can I apply anyway ?
The whole point of the NANOMED EMJMD is to get you familiar with Nanomedicine, so having previously studied Nanomedicine is not a prerequisite. We do accept students with very diverse backgrounds such as: biology, biotechnology, chemistry and medicine in addition to pharmacy students. However, please bear in mind that the training the NANOMED EMJMD is offering is related to pharmaceutical technology so you have to clearly demonstrate your interest and competences in this area. The Executive committee will pay particular attention to the reasons why you want to study Nanomedicine and the general relevance of getting an expertise in this field of study according to your career plan.
I'm currently following the last year of my Bachelor's Degree. Can I apply to NANOMED ?
Yes, you can. Please enclose to your application all transcripts of records you have to this date in your online application along with a document from your home University stating that you are currently following the last year of your curriculum and the expected date of graduation.
I don't have the results of my English test yet. Can I upload the document after the deadline is passed?
You should give the results of your English test before the deadline or at least upload a document proving that you intend to take one (confirmation email, statement from the board etc.) and mentioning the date on which you will get your results back. If you are in the process of taking an English test, you must submit the results before the month of March.
To apply, I have to download a "proof of residence", what is this document ?
The proof of residence is mandatory to submit your application. It is very important indeed because will have an impact on the calculation of your scholarship.
A proof of residence can be any official document with your name and address on it but it must have been issued within the 12 months prior to the application deadline. The document has to be in roman characters (or with a joint translation to English). It can be:
a certificate from the city hall/municipal office or equivalent in your country,
an invoice (phone, electricity, gas…) for your current residence with your name on it,
If you live with your parents, a certificate from your parents stating that you still live at their place along with an invoice for electricity/water/gas/telephone at their name
a certificate from your employer with the information that you are employed at their local branch/office.
If you are in a student residence, an attestation from the student residence manager
If you choose to send documents with private information on it, please make sure to hide these personal details. We only need to see your name and surname, address and be able to identify the source of the document.
Important: Your passport or ID card is NOT a proof of residence !
What is the Institutional reference form and where can I find the template?
The Institutional Reference form (IRF) is a document that is filled out by the referee and sent directly to us in confidentiality. It is therefore, not provided directly to candidates. When you provide the name and contact email of your Institutional Referee on the application site, an automatic email is sent to the identified person with the IRF to be filled. The IRF is mandatory for the application and if it is not submitted, your application will be ineligible for further review by the Selection Committee. Thus it is very important that you :
Ensure that your Institutional Referee's email adress is correct and active.
Identify an Institutional Referee who is available to fill this form and return it to us.
For your information, we are displaying the template here. This document is not to be used for application!
My referee did not receive the automatic email yet, how can I send it again?
If you need to send again the recommendation request, you will only have to log again onto your application and go to the section "references" of your application form and press again the button labelled "SEND EMAIL" at the bottom of the page.
I have sent you an email but I do not have an answer yet. What can I do?
We answer all emails as soon as possible. If you do not have an answer yet, it means we are still looking for the appropriate information.
Please do not send the same email 2 or 3 times. Answering all requests for information is time-consuming, all the more so because we answer each request carefully and with as many details as possible. When you send us several time the same email, not only is it not necessary but it also takes time to identify the email and check for the previous identical requests and make sure we don't answer twice for the same request. It make the answering process slower for everyone.
I disagree with the selection result, what can I do?
The Executive committee is the only official body authorized to evaluate your application. You will receive an email explaining the reasons why you could not be part of the NANOMED EMJMD. If you wish to get a more specific and personalised explanation, please just let us know.
I have a question that is not answered in this Q&A. What can I do?
You can contact the NANOMED Project Managers by email. See the contact page for more details.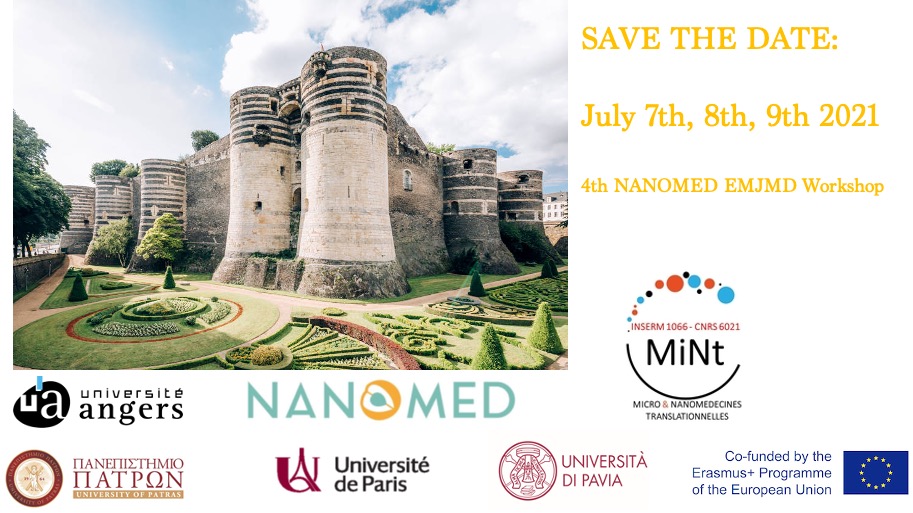 We are pleased to announce that the 4th NANOMED Workshop will be organized by the Université d'Angers ! It will take place on the 7th, 8th and 9th of July 2021. This edition of the workshop will focus on Translational Nanomedicines and is a wonderful...