All members of the NANOMED Consortium have been working together hand in hand for several years to create a unique and comprehensive training which aims at teaching our students the latest evolutions in the field of Nanomedicine.
Given the present and future challenges of unmet medical needs and health issues in a European and global perspective, there is a huge expectation on innovative approaches such as Nanomedicine in the fields of therapy, diagnosis and theranostic (combination of therapy and diagnosis).
Europe must be a competitive arena for the development and successful implementation of new sustainable medicine/therapies based on nanosystems, contributing to a better life for Europe's population and creating opportunities in the field of life sciences. One of the major needs is to develop new International curriculums at the MsC level as identified by the European Technology Platform for Nanomedicine (ETPN) in the report entitled "Education and Training Needs in Nanomedicine". This report stresses out that there is an unmet need for an international training in the application of Nanomedicine to drug delivery within the currently existing European Master's programmes.
The NANOMED EMJMD aiming at educating young scientists about the general principles of drug development and focuses more specifically on Drug Delivery Systems and Pharmaceutical Technology using both classical dosage forms and innovative delivery systems. It provides essential knowledge to go from basic training in Drug Delivery to advanced knowledge in Nanomedicine. Joining the NANOMED EMJMD is a great opportunity for future graduates to tackle Nanomedicine through multi-disciplinary perspectives and to learn about the latest advances in the field of Nanotechnology on the development of Advanced Particulate Drug Delivery Systems.
In addition, the NANOMED Consortium can profit from top-level facilities to deliver cutting-edge courses on characterization of nanoparticules (diffraction light scattering and electrophoretic mobility, DSC, FTIR, XRD, HPLC and UPLC – UV detection, mass spectroscopy, Raman Spectroscopy, interfacial rheology, etc.), their visualization by microscopy (Confocal Scanning, TEM, AFM, FRAP and SEM Microscopy Units) and their biological evaluation, both in vitro on cell cultures (complement activation, cytotoxicity assay, oral transport model, etc.) and in vivo on appropriate animal models (housing facilities, live animal imaging platforms, etc..).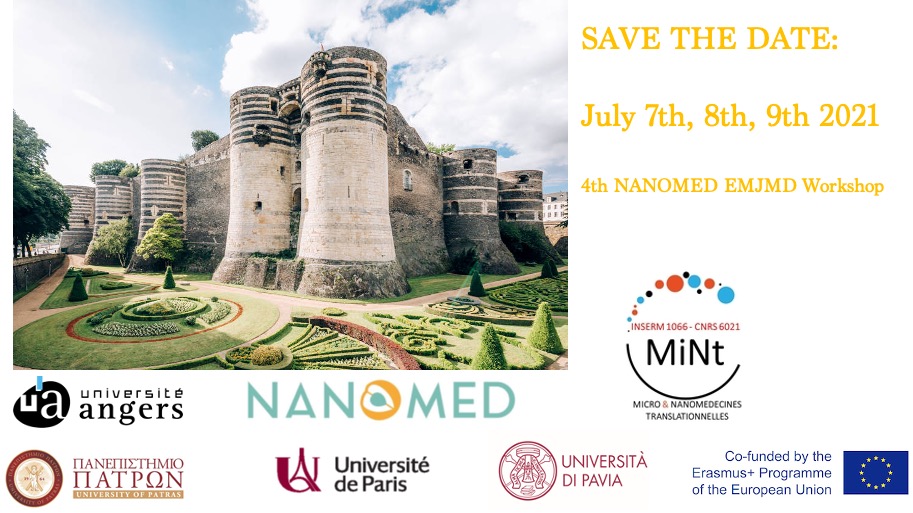 We are pleased to announce that the 4th NANOMED Workshop will be organized by the Université d'Angers ! It will take place on the 7th, 8th and 9th of July 2021. This edition of the workshop will focus on Translational Nanomedicines and is a wonderful...