Participation fees are 18000 euros total for Scholarship holders from a Partner country and 9000 euros total for Programme Country scholarship holders.
Participation fees are included in the EMJMD scholarship only; students with other scholarships (considered as "Self Funded") should pay the participation fees.  The Participation fees for Self Funded students are 9000 euros total (4500 €/year).
Participation fees include
Registration fees at each university of the Consortium
Participation to each module included in the curriculum (theoretical and practical courses)
Participation to the Welcome Week and other services offered by the Consortium
Access to all the facilities of the Consortium (library, laboratories, working spaces)
Participation to one Summer School (Semester 2) and two workshops (Semester 2 and Semester 4)
Registration to a Health & Travel insurance (PROTRIP-WORLD-PLUS)
Participation fees do not cover travelling and accommodation costs.
Université Paris Cité
Université Paris Cité has a long track record of welcoming international students. It coordinates a buddy programme based on a voluntary basis, which aims at building a community between local and international students. Becoming a buddy is an excellent opportunity to meet people from other cultures, to share experiences and to improve language skills.
The Language Center also provides French courses for foreign students at a very interesting price throughout the year. For more information, please contact: cdl@parisdescartes.fr. It is a great opportunity to be introduced to other foreign students and to learn more about French culture through the classes.
The International Relations Office regularly organizes meetings for new incoming students and offers the possibility of an accommodation in a student residence. At the Faculty of Pharmacy, a detached agent of the International Relations' Office is available for helping foreign students with all the administrative formalities as well as the NANOMED's Project Manager.
For general information regarding student life in France you can check Campus France.
Panepistimio Patron
Panepistimio Patron offers hosting in the dormitory for international students or if not available for the specific time period, students will be assisted to find off-campus housing. More generally speaking, it is important to consider that housing and overall life expenses are low-priced in Greece.
The International Relations Office welcomes international students from all over the world through exchange programmes and helps them to adjusted to their new life in Greece and within the academic community. This includes helping with administrative tasks (visa, bank account). In addition, Panepistimio Patron is involved in the Euraxess Services Network, aiming to provide customized assistance, information, and support to incoming researchers and their families who work (or plan to work) in Patras and in the broader region of Western Greece.
Greek language and cultural courses are offered to Erasmus incoming students and the Erasmus Students Network (ESN) supports the integration of international students within the Campus and the City of Patras.
Università degli Studi di Pavia
Università degli Studi di Pavia has set a specific welcome desk for foreign students and visiting professors providing computer and WIFI access, housing assistance and a dedicated library. In addition, the University possesses a large capacity of student's housing and restaurant services that can be accessed even for a short period of time. It also provides support for administrative tasks (residence permit–visa, bank account opening), language and cultural courses, welcome and assistance, sport and physical activity facilities, excursion opportunities to Erasmus incoming students. Prof. Carla Caramella was the former Head of the Erasmus programme at the University of Pavia and she is also part of the NANOMED Executive committee which gives her a comprehensive overview and capability to welcome the students from the NANOMED EMJMD.
The following links provide a general overview of Università degli Studi di Pavia and the services it can provide to the students:
Université d'Angers
Université d'Angers is well trained at welcoming international students (European and non-European). The International Office dedicates a great part of its activity in offering support for accommodation, language training, and administrative formalities.
Housing: students have the possibility to book a room in one of the University residence hall. If a student cannot get a room in one of the halls of residence, a list of home and youth hostels will be disclosed by email. If the student prefers another kind of accommodation, the Local Center for School and University Services will help to find a suitable accommodation.
University canteen: four university canteens are available 6 days/week on the campus and WIFI is accessible on halls of residence and campus.
Social activities and language courses: free French Language courses are offered during the semester (3 hours per week during 10 weeks teaching both French language and culture). Students can also participate to free French culture courses and conversation workshops. The International Office also promotes cultural, social and sport (49 different sports) activities within the faculties and through its partnerships with local cultural institutions (theatres, specialized libraries, cinema, discovery tours on the various regions of France etc.) ; as a result, students can get discount on many cultural activities.
Administrative support: the International Office and the exchanges programmes co-ordinators will help students with administrative tasks such as opening a bank account, administrative formalities for Health insurance, application to residence permit–visa etc.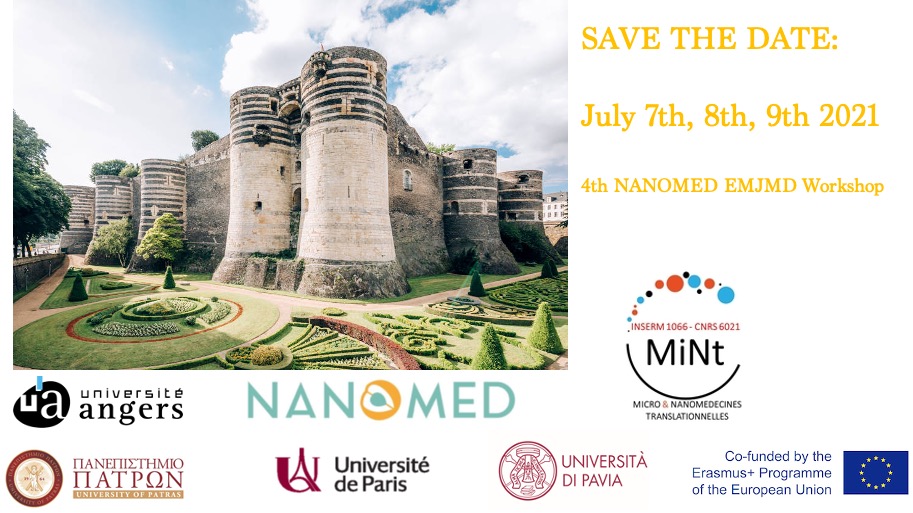 We are pleased to announce that the 4th NANOMED Workshop will be organized by the Université d'Angers ! It will take place on the 7th, 8th and 9th of July 2021. This edition of the workshop will focus on Translational Nanomedicines and is a wonderful...