How to get involved?
Want to train your personnel in Nanomedicine for drug delivery, you have two options:
Full participation
Join the NANOMED EMJMD as "self-funded" students which means being trained for 2 years, in the same conditions others students are, and graduating. The option implies that the self-funded student, or its company, will bear the costs of the participation to the EMJMD (participation costs and mobility costs.) To apply as a self-funded student, please click here.
Occasional participation
Join the NANOMED EMJMD  only for one specific module which might interest your company/personnel to broaden their expertise in this field. This option implies that the self-funded student, or its company, will have to bear the costs of his/her participation to this specific module and the possible journey to reach the location where the module course is being taught (videoconference can also be arranged). To find the module of your interest , please check here. In this case, the participants will have to register through the adult education system to the Master's programme. To learn more about the registration procedure please contact us.
Participate to the Summer School & Workshop
For each intake, the NANOMED EMJMD organizes a Summer School and two Workshops. The aim of these encounters is to:
For students: to defend their Master thesis in front of an international jury (international experts, NANOMED professors as well as traineeship supervisors from both academia and private companies)
For industry representatives: to monitor the progress made in academia and correlate it to the current implementation in the private sector, possibly to recruit some of the students after they graduate
For research institutes: to exchange with renowned colleagues on the latest  innovate approaches  of Nanomedicine for drug delivery and to possibly considering taking the Master's students further within their research
The NANOMED EMJMD  already has a great number of Associated Partners which can also be involved in these event.
1st NANOMED Workshop : "Nano-objects for Drug Delivery and Imaging"
July 12th & 13th 2018 in Paris, France
2nd NANOMED Workshop: "Innovative Nanomedicines for Targeted Drug Delivery and Personalized Approaches"
July 8-10th 2019 in Patras, Greece
3rd NANOMED Workshop
July 15-17th 2020, online
4th NANOMED Workshop: "Translational Nanomedicines"
July 7-9th 2021 in Angers, France
5th NANOMED Workshop: "From Biotechnology to Nanobiotechnology and Vaccines"
July 11-13th 2022 in Pavia, Italy
6th NANOMED Workshop: "Nanomedicines in the post mRNA-vaccine era"
July 10-12th 2022 in Patras, Greece
Want to become an Associated Partner yourself?
Please don't hesitate to contact us to discuss how you can get involved in the NANOMED EMJMD!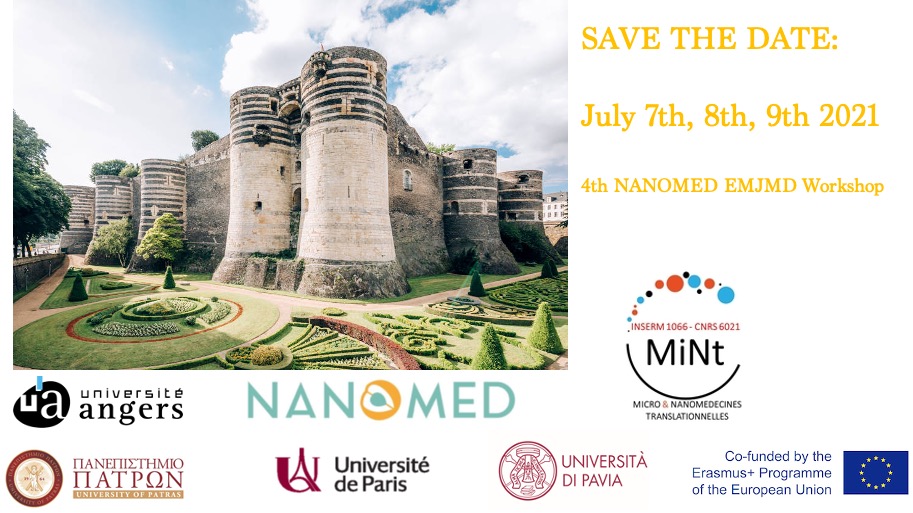 We are pleased to announce that the 4th NANOMED Workshop will be organized by the Université d'Angers ! It will take place on the 7th, 8th and 9th of July 2021. This edition of the workshop will focus on Translational Nanomedicines and is a wonderful...