Employability and career prospect
Why choose the NANOMED EMJMD?
Accessibility
Wide range of students from different backgrounds can be allowed to join the NANOMED EMJMD offering multiple perspectives regarding the topic of the Master's programme
Specific expertise & multi-sector approach
Tackling Nanomedicine through an innovative approach of drug delivery
Involvement of renowned international experts coming from various sectors related to Nanomedicine (both academia and private companies)
Professionalized training & environment
Combination of theoretical courses (face-to-face or videoconference) with practical and interactive courses as well as personal and team work allowing the students to develop useful soft skills
Completion of two traineeships in internationally recognised laboratories or companies for developing research and development projects
Involvement in two Workshops and one Summer School gathering experts of both academia and the private sector allowing the students to evolve within a professional network already
Multi-cultural aspect
Cultural enrichment arising from the mobility offered by the EMJMD
Sharing with students with different scientific backgrounds and nationality and encouraging future exchanges in the field of research if relevant
Students benefitting from each Consortium member's specific expertise throughout the curriculum thanks to videoconference
Career opportunities
The upmost quality of this curriculum will allow participating students to become experts in Nanomedicine opening up career opportunities in research institutions or Industrial R&D Divisions. Nanomedicine offers a huge range of career opportunities within the following fields:
Academic Research and Instruction
Industrial Research and Development
Biomedical Technologies
Pharmaceutical and Drug Development
Clinical evaluations and Services
According to a survey the Erasmus Mundus Association (EMA) recently published, 66.2% of EMJMDs graduates are employed and 60% of those do find a job in less than two months after graduating. These figures speak for themselves and stress out how great an opportunity it can be for your future career to take part in an EMJMD.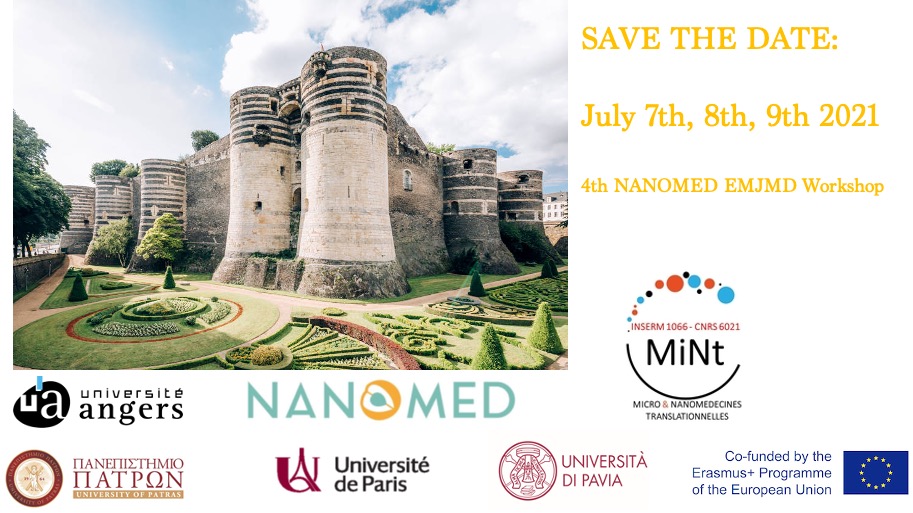 We are pleased to announce that the 4th NANOMED Workshop will be organized by the Université d'Angers ! It will take place on the 7th, 8th and 9th of July 2021. This edition of the workshop will focus on Translational Nanomedicines and is a wonderful...